Passport to the World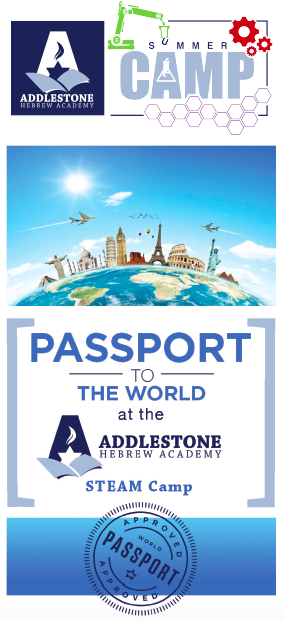 Each week when entering Addlestone, children will be taken to a new region to explore and learn about the culture, food and sports.  Each child will get a passport and with each new session, we will stamp the passport with the different countries we have toured.
SESSION ONE  June 8 – 12
Netherlands – $250
We will kick off camp with a tour of the Netherlands.  Did you know that Legos originated in Denmark?  Each camper will get a pack of Legos to use in various coding and building activities during the week.  They will also get to code a Lego Robot to perform missions.  We will make Belgian waffles for lunch one day.  During the week campers will learn the rules of Soccer and have our own match on Friday.
SESSION TWO  June 15 – 19
England / France – $225 / $200
We will travel through England on a broom seeing England through Harry Potter's eyes.  Campers will create castles and dragon eggs.  Campers will mix up scones and crepes.  While learning about France, campers will make paper mache art.  Campers will participate in Cricket by creating their own bats and balls.
SESSION THREE  June 22 – 26
Canada – $225 / $200
Campers will hop back over the Atlantic Ocean to visit our northern friends in Canada!  They will create their own totem pole, learn how a waterfall moves, and even make their own bear!  Campers will learn the popular winter sports of Curling and Hockey.  They use their culinary skills to make maple taffy and Poutine.
SESSION FOUR  July 6 – 10
Asia – $250
We will sail back over the ocean to visit Japan and China.   Students will learn about coding their own Raspberry Pi (micro computer).  We will make delicious fruit sushi!  We will learn the games of Ping Pong and Badminton.
SESSION FIVE  July 13 – 17
Italy / Greece – $225 / $200
We will go back in time learning about classical Greek and Roman mythology.  Campers will create their own mythical creature.  Campers will have a feast of pizza and Greek salad that they created.  They will finish the week with and Olympics that they created.
SESSION SIX  July 22 – 26
South Africa – $225 / $200
Campers will go half-way around the world to visit the land down under. They will learn about animals such as the Koala and Kangaroo. We will learn about the Great Barrier Reef and create our own reef for all to visit. We will learn what vegemite is made of and make our own Fairy Bread. Campers will participate in Cricket by creating their own bats and balls.
Registration Fee is $50.  Registration fee and cost of 1st session of camp is due upon registration.  Camper insurance and camp
T-shirt are included.
K-5th graders welcome – 8am – 4pm
Campers must be 5 years of age by June 7, 2020.
Camp is $250 for 1 session and $200 for additional sessions, excluding Robotics sessions which are $250.00.
Payment for camp is due by June 10, 2020. Cash and checks are preferred payment types.  Credit cards will be processed with a 2.75% processing fee.  There is a $35 returned check fee.  No cancellations or refunds after June 10, 2020.
All camp registration paperwork is available for download below.
Completed paperwork is due to the office by June 7, 2020.   Campers may not attend camp until all paperwork has been submitted and approved.
Sessions are based on registration and are subject to cancellation due to participation.
Kosher lunches and snacks will be provided daily.
Please have your camper arrive each day with comfortable attire, shoes, and a water bottle.
For questions, please contact camp@addlestone.org.