Passport to the World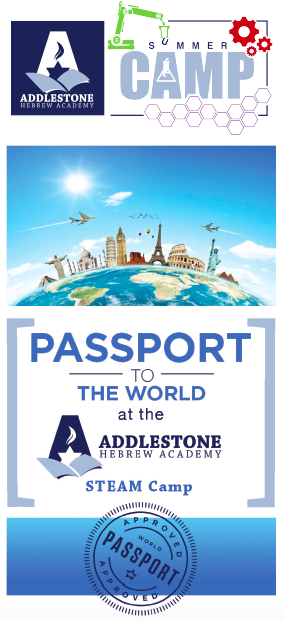 Each week when entering Addlestone, children will be taken to a new region to explore and learn about the culture, food and sports. Each child will get a passport and with each new session, we will stamp the passport with the different countries we have toured.
SESSION ONE  June 11 – 14*
*Please note that camp will be closed on Monday, June 10 due to the Jewish holiday of Shavuot.  Camp will begin on Tuesday, June 11.
Netherlands – $225**
We will begin our tour in the Netherlands with Lego Robotics. Children will learn to code the Lego robot to complete missions. We will make chocolate and
on Friday have a field day of games the children have created.
**price adjusted due to shortened week.
SESSION TWO  June 17 – 21
England / Ireland / Scotland – $225 / $200
We will travel the islands on a broomstick with Harry Potter creating castles and dragons. We will use our culinary skills to make scones and cream.
On Friday students can choose to participate in the Addlestone Open tennis tournament or the Lion cup golf tournament.
SESSION THREE  June 24 – 28
Spain / Portugal / France – $225 / $200
We will travel through Spain, Portugal and France creating art, and listening to music. We will make homemade salsa and chips. On Friday we will participate in our own Tour de Addlestone.
(Please bring your bicycle)
SESSION FOUR  July 8 – 12
Asia – $250
We will sail to Japan and then hop to China learning about coding on Raspberry Pis. Each student will receive a Raspberry Pi of their own to take home.
We will roll our own sushi and have ping-pong and badminton competitions.
SESSION FIVE  July 15 – 19
Italy / Greece – $225 / $200
We will go back in time learning about classical Greek and Roman mythology. We will be in the kitchen mak-ing our own pizza. We will top off the week with our own Olympics.
SESSION SIX  July 22 – 26
South Africa – $225 / $200
We will travel through the land learning about animals, plants and creating fossils. We will make Mielie-meal (Corn bread) and dessert Samosa.
CIT Program
The CIT program is a very competitive program that is designed to take teenagers who have demonstrated a strong desire to work with children and a love of camp and give them the training and skills to be successful leaders. The participants in the CIT program are held to high expectations. You will be expected to lead activities for younger campers, mediate, and motivate others. The CIT program is about discovering your inner leader.
The CIT program requires a $50 registration fee and costs $100 per session.  A CIT t-shirt is included in the cost of registration.  CITs must be rising 6th through 8th grade students.  CITs do not have to be Addlestone Hebrew Academy students to apply.
To apply for the CIT program, click here.  The deadline for applications is May 28, 2019.
Registration Fee is $150 – due upon registration – camper insurance and a camp T-shirt are included.  $100 of the Registration Fee goes toward your first week of camp.
K-5th graders welcome – 8am – 4pm
Campers must be 5 years of age by June 12, 2019.
Camp is $225 for 1 session and $200 for additional sessions, excluding Robotics Sessions which are $250.00.
Payment for camp is due by June 6, 2019.
Cash and checks are the preferred payment types.  Credit cards can be processed with a 2.75% processing fee.  There is a $35 returned check fee.
All camp registration paperwork is available for download below.
Completed paperwork is due to the office by June 6, 2019.   Campers may not attend camp until all paperwork has been submitted and approved.
Sessions are based on registration and are subject to cancellation due to participation.
Kosher lunches and snacks will be provided daily.
Please have your camper arrive each day with comfortable attire, shoes, and water bottle.
For questions, please contact camp@addlestone.org.